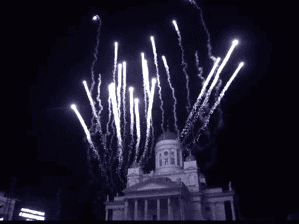 We organise spectacular shows using architecture of the venues and the space around the guests.
A show where the effects are perfectly synchronised with the music, with flame generators, stage pyrotechnics, mines and comets as well as ice fountains, confetti and streamers, low smoke, bubble generators… arranged to make a stunning impression on the spectators.
Such a show requires us to operate on several levels, so that our guests can immerse in it.
We can achieve this by filling the room with low smoke, so that everyone is wrapped in it or by sprinkling confetti all over the guests during the final scene.
The guests will also experience the heat emanating from the flame generators and the chill from the ice fountains.
All the effects accompanied with the right soundtrack will trigger desired emotions in the guests.
Stage performance with the use of flame generators, steam columns and stage pyrotechnics: