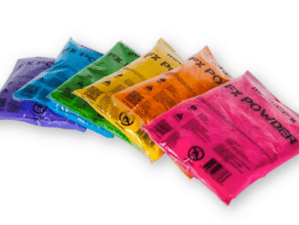 Parties with holi powder are increasingly popular all around the world and now they are catching on in Poland as well.
With various types of cannons and guns creating colourful clouds of holi powder, we can offer a comprehensive service.
We also distribute the powder which is available in the following colours:
pink
orange
yellow
blue
green
red
purple
The powder we offer is of highest quality, it is non-toxic, non-irritant and, most importantly, NON-FLAMMABLE. The powder has the required certificates, which is of particular importance because the majority of holi powder types available on the market constitute a significant threat to health because the colourful cloud is creates is inflammable and even explosive.