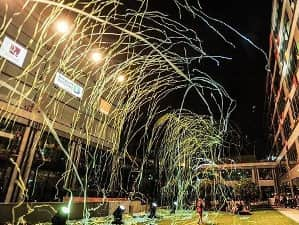 We shoot streamers 10 to 30 meters up into the air. The streamers then fall, creating a spectacular cascade.
When do we use streamers? They usually save the day when there is not enough time to organise a confetti show.
The cascade effect lasts for several seconds. The advantage of streamers is that we have the possibility to create colourful stripes in the sky and arrange them into a flag or select colours associated with the client's brand.
Streamers of 5 or 10 meters are easy and quick to clean up in several minutes, so that another part of the event can take place in the very same room.
We offer streamers in various sizes and colours so the effect can be adapted to the client's requirements.
We use a number of devices to launch streamers, which allows us to regulate how high streamers are launched into the air. Another advantage of a show involving streamers is that it can be organised on large surfaces, e.g. arenas or football pitches. With the electronic control system it is possible to perform single launches or sequence of short shows synchronised with music which can constitute an alternative to a pyrotechnical show in plain sun.