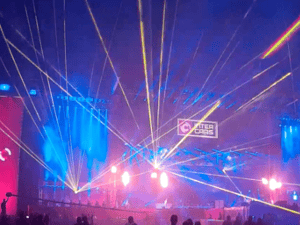 We offer laser shows on the highest level with the most sophisticated and efficient equipment. Since a laser show in itself is nothing to write home about, we also add a wide plethora of stage effects, including flame generators, vapour columns, low smoke and stage pyrotechnics. This is how we create an out-of-the-ordinary show which invites the spectators to be a part of it and boost their experience.
During outdoor events we often add fireworks which are usually the most spectacular option for the final.
We can provide up to 7 high-powered RGB lasers which can be used in hotel spaces, arenas and outdoors.
Our sophisticated control system allows us to schedule all effects to achieve perfect synchronicity with the music.