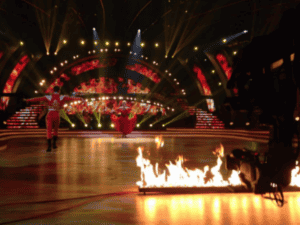 Fire walls offer great possibilities to create spatial stage effects, including a 1-meter tall and 9-meter long burning wall.
Electric ignition enables to start the flame automatically at any moment and to create impressive sequences.
Examples of application:
television productions – flame in the foreground,
company events – setting the stage on fire and emphasis of a special moment,
artistic performances – fiery atmosphere surrounding dancers,
new product presentations,
event decorations,
film productions.
The height of the flame is regulated, so we can generate a 1-meter burning wall and a 10-cm small flame.
A single device is 1.5 m wide. Fire lines do not have to be next to each other, they can be arranged in a circle or otherwise.