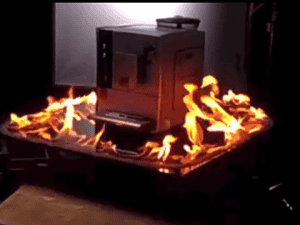 We create special effects for commercials and films.
Flame generators create impressive and vibrant background for commercials, significantly boosting their appeal. They are also applied in numerous films, music videos to create columns and balls of fire in specified locations or to simulate an explosion.
Burning gel can be applied on any type of surface. The time of burning depends on the thickness of the layer of the gel and the height of the flame depends on the surface. We can set thin lines, any shapes, circles or larger surfaces on fire.
Vapour columns are often used to simulate the effect of broken pipelines or overheated machines.
Spark fountains simulate short circuits and defects of electric devices; in combination with other effects they stimulate shots and explosions. With stage pyrotechnics we can imitate flashes, waterfalls of sparks, comets, mines, colourful smoke and so on, depending on the script.
Air cannons release pieces of foam and styrofoam to stimulate explosions with rock chippings.
Low smoke creates an impression as if actors were walking in the clouds; when modified it imitates a thin layer of morning forest fog. It can also be used to stimulate smoke coming out of chemical units.
Confetti cannons: instead of launching confetti we can create a blizzard of artificial snow or… banknotes.
We also create custom made devices to create the exact effect you need. Safety and reliability of such devices is always a priority.
https://www.youtube.com/watch?v=jTewVhkCs4E