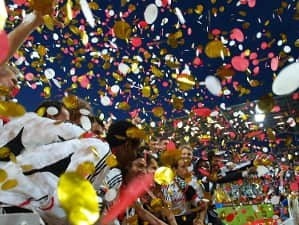 We organise professional confetti shows with the use of world's best and most efficient equipment thanks to which confetti can launched up to 25 m. Our shows can be adapted to any location, from small clubs to football stadiums.
We offer our clients all types of equipment available on the market thanks to which we can select the right equipment to produce the desired effect. We can create long shows with cannons launching confetti as high as 25 m into the air. Within one second we can launch 2 kg of confetti into the air over a distance of 15 m or gently sprinkle confetti from above for several minutes.
We offer a wide range of confetti patterns and colours as well as materials, including paper and foil, so that our clients can choose the best solution for them. On request, we create unique confetti patterns according to a specific design.
The material we use has non-flammability and non-conductivity certificates.
Each time we do our best to adjust the material and equipment to the plan of the event, available space and the client's budget.
Confetti cannons
We use confetti cannons to create long and spectacular confetti shows where confetti is launched into the air as high as 25 meters for 30-60 seconds. In one minute, we can launch up to 12 kg of confetti irrespective of its shape and colour. This is the best choice for conference and banquet halls.nkietowych.
Air cannons
Machines for short confetti shows. In a fraction of a second we launch 2 kg of confetti 15 m up into the air. This solution is perfect for music events and concerts when synchronisation with the music and immediate delivery of effect are so important.
Suspended machines
The intensity of launching confetti is fully regulated and remotely controlled from the director's seat.
Devices suspended on construction elements throw confetti around. The diameter of the covered area depends on the air output and ranges from 1.5 m to 5 m.