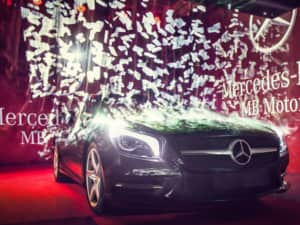 A fog screen infuses each event with magic. It enables us to show just about anything on a wall which you can pass through.
This is a very good idea to create the so-called "wow effect" by placing the screen in the main entrance to the room where the event is taking place. This is how each of the invited guests will pass through the screen showing e.g. the client's logo or any other graphic element or animation.
It can be also used as an element of artistic performance/show e.g. during a presentation of a car, members of a sports team or a new logotype.
The screen we have is 3m wide.
The latest, reliable technology of generating steam allows for continuous operation even for a whole day. We can provide not only the screen but also the scaffolding to suspend it and projectors.