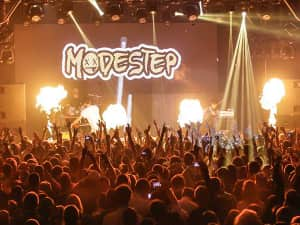 Spectacular balls and columns of fire reaching up to 10 meters. Electronic control system enables us to generate single flames and create spectacular shows which are perfectly synchronised with music. Dynamic and fierce, flames make a huge impression on spectators and the heat they emit can be felt from a distance of over ten meters. We offer two types of flames:
up to 2m Stage Flames forming balls and thick tongues of fire at 90 degrees (vertically)
up to 6m Flamaniacs forming tongues of fire propagating in five directions (vertically and at angles)
up to 10m Wave Flamers with a moving head enabling to generate spectacular waves of fire.
Flame generators have integrated efficient cartridges, so there are no large cylinders with flammable gas on the stage, which are not allowed by hotels and arenas.
A unique mixture of certified liquids creates a bright orange flame and no smoke is produced during combustion.
The safety zone is 3-5m from the generator (depending on the type).
It's is odourless.
The generators are produced in Europe and have suitable certificates.
We have both indoor and outdoor flame projectors which can be operated in all weather conditions, including rain and snow.
Stage performances with flame projectors:
Our flame generators during events: