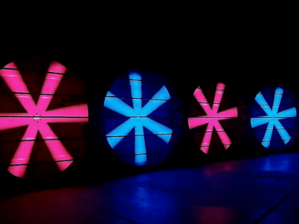 We present you the LED fan. This is a spectacular solution which adds character to stage decorations.
Availability of various colours which can refer to the theme of the event or the client's logotype makes it perfect for promotional and company events.
It attracts attention from large distances and creates an industrial atmosphere.
LED fans can be located just anywhere: outside the building, in the hallway or on the stage among other decorations.
The fan dimensions are 130x130cm. The fans make a huge impression and never go unnoticed. This is what makes them the ultimate solution to use during fairs where the key is to attract the attention of passers-by.
The front of the fan can be covered with translucent plexiglass sheets where we can apply any graphic design or logotype to personalise the device according to the client's requirements.
Rate of turn and colour are DMX-controlled, which enables us to adjust the colour scheme according to the client's wish or for example synchronise it with the beat of music.